Wherefore Art Thou DVD Player, Peru 2009
Date of entry: June 26, 2009
It was a waiting game we played as we trudged back and forth from the bus station.
Marten and I, toe to toe, moral blow for moral blow.
With his strict schedule (as with Thomas yet another jet setter that needs to move even quicker than I do!), it meant we needed to get on a bus from Cusco to La Paz pronto in order to eventually make his flight in La Paz.
And again, our level of fun was predicated upon how much time we had left to play with.
So post Machu Picchu, a few days later, there was going to be the biggest festival 🎇 of the year in Cusco. Bands preparing, people practicing their dance moves for the shows and processions in the street, and Peruvians coming from 100s of kilometers away in order to join in on this festive day (and I am sorry, the reason for it positively escapes me now).
And there we were, loitering at the bus station 🚍 at around 8pm as we were told that there would almost certainly be a bus leaving the next morning – Two strapping, smart, good looking young men, on the night of the biggest festival of the year, in both now a Peruvian and gringo haven….looking for a DVD player.
Wait. Stop! 🛑
Let me explain before you start bending over with laughter. I have bought copious amounts of copied DVDs from markets across South America. Unfortunately, being the impatient yobbo I am, they work only with varying degrees of success.
For example, the lovely Monsters vs. Aliens 👽 is in Spanish without subtitles, and Terminator 4 has crazed chipmunk cyborgs running rampage across the city street. Ah good times….
Anyhoo, having searched in vain for a hostel with a DVD player, we eventually checked into a Quechua hospedaje for the evening at only 10 soles a night!
Super cheap by gringo standards, and a good price for Peruvians! Feeling exalted at the price, but a little disappointed at the patent lack of DVD playing instruments..off we went again in search of our treasure!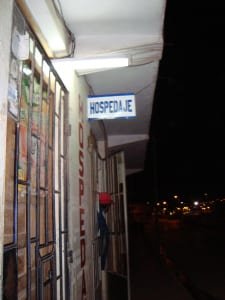 Our not so chatty Quechuan friend with whom we originally agreed to stay with. This is when we were checking out. Being a masterful spy as I am, I was incognito as I took a picture with a great big bloody flash…📸
Of course about 15 minutes later, at 9.15pm we realized that we needed a TV 📺 as well to watch this damn DVD…
As we stumbled upon the most interesting hostel with a curly haired, biker jacket wearing, Bolivian who had a room with both a TV and a DVD player I thought we had round magic.
It being late with us wandering around circa the shady bus station I was eager to just find a place.
We had to move in to get access to our treasure, and there was a significant hike in price for the privilege of having this room (30 soles, 5 soles more each haha)….with its wonderful double bed.
Our wonderful room for the night. In the part of the neighbourhood we were in, these poses are entirely necessary, I kid you not amigos. This is where we bedded down for the night……lovely!
So wanting this DVD player so bad, we wandered back to our old abode, made an excuse and checked out (meno cinco soles for wasting their time) then checked into this hostel and reveled in joy with our find. Getting into bed, slapping on a DVD, we put on the Oxford Murders…(good movie)..
After all that searching, on the night of the best party of the year, we round a room  for couples with a TV and DVD player….
And promptly crashed out.
Idiots.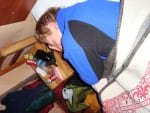 K.O. 💥