Travelling and a Few Home Truths, Peru 2009
When travelling in pairs…?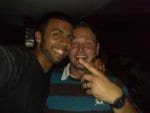 Oh yes.
The process of assimilation. Akin to breeding a child borne of each others worst features…
For Thom….
Mr. Well Spoken animated Swissman used to a higher standard, has along with one Mr. Shukla taken to swearing profusely, not only at irate officials at preposterous border crossings, but also the lazy husbands of cafe owners.
Ah. The joys of Spanglish hooliganism when abroad, saved for the select taxi driver whom loves recommending the local brothels to us..along with lazy bastards like the aforementioned…
For Deepak…
Mr. British Indian of at times flippant comments has fallen foul of the path of erudition. Whilst his level of vocabulary is continually strained, it contracts whilst his love ❤️ for profanity expands.
Like Ripley's Believe it or Not, you Just gotta see it.
It's Day 45 of my trip, and its 4.12pm 15th June. And I´m in an internet cafe in Nazca.
You arseholes.
Wipeout! ❌