Save our Souls Part 3, Peru 2009
Date of entry: June 27, 2009
The morning after minus 15 degrees 🌡️, and the van I had for the night. Free accommodation. Ball aching but sweet!
Up we arose. The time was 3.30am and apparently this is when the temperature drops lowest during the night. Having already wrapped myself in some bed lining/sleeping bag (I carry the most retarded kinds of supplies), along with a t shirt 👕, sweatshirt and jacket, as well as long trousers, I continued to freeze.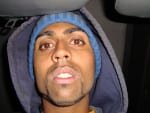 Wow. 3.30 am wakey wakey. Arseholes.
I subconsciously heard the late Michael Jackson cooing "you are not alone" as I heard the locals ruffling as well as Marten.
I rushed to my bag, passed some of my t shirts to the freezing Javier (not Julio…sorry!) and then whacked on another pair of socks 🧦. Then, on top of those socks, some long trousers which I wrapped around my frost bitten feet.
6.40am and we are up, tired and sprightly, considering we only had one full meal the day before…and as it would turn out we would eventually have two this day!
To cut the long story short, we waited with our van by the strike, as he assured us that if it didn't clear within the next two hours we would go via a dirt road to get to Puno, with this only taking an extra hour!
About four hours later we were trudging through the roadblock ourselves. Our driver bailed, and we just caught him before he spun off with some high paying Japanese tourists (money talks!) hightailing themselves with what was our bus around to Puno via Arequipa (a 12 hour ride!).
Javier´s bag was missing, along with his passport, whilst luckily, our items, remained intact.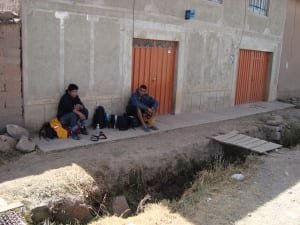 Hanging out. Waiting for a ride. Even a hunchbacked gimp would have been fine at this stage….
Walking across we again waited in the blistering sun ☀️. After another hour we hunted down a puncture tyred taxi that was in for repair! At last, our lift. As it turns out the protesters had been laying nails across the road to outmaneuver those that tried to go through or across roadblocks.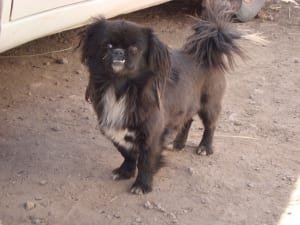 Introducing…the world´s ugliest dog 🐶….hanging out with us and our bread at the car garage…Eugh.
The next "ride" for the day…..grrrreat…..
In another taxi….with another bumpy, altitude ridden, dust bitten ride we FINALLY made it to Puno…
Limp foot, No food, little money!
Ha ha.
But us hardcore gringos are here. Alive and kicking (and in my case not shitting if you read my previous posts).
Ode to Deepak.
A disgusting young man.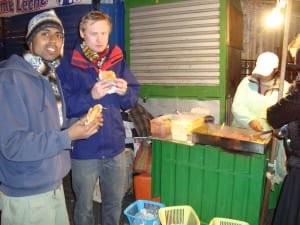 Phew! Here we are in La Paz. Marten and I….