Save Our Souls Part 2, Peru 2009
Date of entry: June 27, 2009
Some people opt for bike when travelling. I met biking backpackers who were having great fun. I was not – check out the damn roadblock!
Ah ha. I am no Shakespeare, Marten is no Watson and neither is this a Greek tragedy or a modern day nightmare.
But… As ever in South America, the plot thickens!
So we managed to get Sicuani rather than just Tinto all the way on a dirt bike…another interesting ride.
As I exited the internet cafe with Marten it turned out there was a Spaniard and German headed in the opposite direction towards Cusco.
Marten being a dude and carrying all my shit, and his. Oh, thank you, busted toe.
In spite of the strike, they were trying their utmost to get through as the Spaniard had a flight due to head out to the States in 3 days. Unfortunately, it turned out that his purse 👜 had been stolen with his passport money and flight tickets by someone standing around eyeballing us gringos…
Not cool.
Marten involved the police, and as we precariously got onto the motorbike with our big backpacks and our small packs all squeezed on (with myself man-wiched between the driver and Marten, scared of busting my toe again…), one of the cocky teens handed some documentation back to the mediterranean gringo!
Not sure what it quite was but off we travelled all the way to Sicuani with myself in my flip  – flops on a bike that was dangerously overloaded in an area littered with rocks and strikers/protesters whom we had seen throwing stones at a truck we had been sitting in previously!
Off we hurtled nonetheless. 🤨
There were several stops along the way involved, a few times when Marten or/and I were in danger of falling off, once when a road block was too big and so we had to walk through the roadblock while our driver friend rode around.
Our only warning was a scream from the driver.  We automatically held on for dear life as we were lifted a foot off the ground on a speeding bike.
Marten´s arse hit metal, my stomach flipped, and with bags hanging off everywhere on us and us on the speeding bike 🏍️, it was by the skin of our teeth that we AND the bags stayed on as we swerved in loops as the motocross thumped back onto gravel.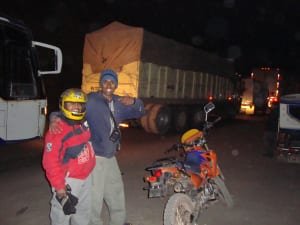 Oh yes. The dude. Who loved to laugh as he biked and we held on for dear life. I don't know why I'm smiling. Bastard.
Phew.
The driver did this all for free! What a great guy…we gave him 40 soles each!
Hit the next town and we're quickly walking through the darkness minus my flashlight which I can´t find. It was an uncomfortable but strangely exhilarating feeling walking on a dud foot in clouds of dusk and the blanket of darkness with only the beaming smog stained lights of lorries to guide us along our way…
Hoping to find a cheap collectivo to take us to straight to Puno, we found an option which turned out to be the only option. On we got, and the fluent Spanish speaking Marten made friends with Julio, a Peruvian travelling back from Cusco to meet his family, as he ran into more troubles along the way with us.
Hmm…💭
Off we hurtled into the night for an extortionate price. But with no alternatives, having already caught mototaxis, having walked 20 kilometres on foot at altitudes of 4000 metres plus, with Marten and I both suffering from mild nosebleeds because of the immense altitudes (most people don't even ski that high!) , our had was forced.
Ha ha.
Little did we know that we were again to encounter a significant roadblock with 3 metre high mud and gravel covering the road, and fire 🔥 burning, chanting protesters crying out their lungs in temperatures of minus 5 degrees.
Well. At least we had a nice view as we tramped from Cuzco to Puno…
Fantastic.
Even less did we know that we would spend the night in a van, with no insulation in temperatures that dropped as low as minus 15 degrees, that had even locals quaking in their pants.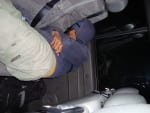 Home sweet home……🏠
The story continues…