Making New Friends in Guayaquil, Ecuador 2009
Date of entry: June 11, 2009
Lots to say, but for now it is suffice to mumble….
One of the greatest things about travelling is meeting great people and making new friends…?
We had a guided tour of Guayaquil from Anna Maria, her boyfriend Marcos and sister Veronica.
This city is one that most backpackers pass through and one that is supposed dangerous and unwelcoming.
We had the most wonderful time. ☺️
If you're reading this guys…I really hope to see you in London one day. I would love to repay the favour…
Hanging out in Guayaquil
All about a sweet pose. ?
Bar that.

Barack Obama eat your heart out. The new king ? is in town. Marcos. He's just skinnier. That's all.
Love Marcos, studies law like Obama did. Very professional and smart guy… only 20 years old.
Young shoulders, big ambitions, lots of talent and prepared to work for it. That spells success to me.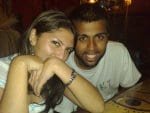 Veronica…the little poser. 17 years old. Talented singer and dancer ? (so her sis tell us all the time!) Creative little miss!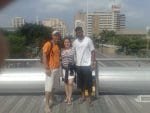 Middle: the wonderful Anna Marie
The hardest thing is saying goodbye… ?
Date of entry: June 11, 2009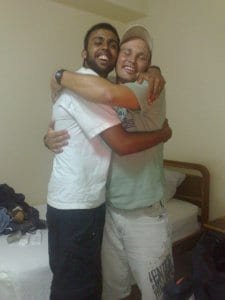 Tom and I…?
We're to slick for this city…. 🙂