La Senda Verde pt 3, Bolivia 2009
Date of entry: July 7, 2009
The feed room…in waiting for the day ahead. Seven days a week, 365 days a year.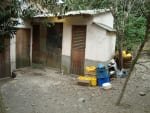 The animals always need feeding…
The average day…..
7.40 am: awake ? and get ready in preparation for the feed. This involves putting on the stain ridden volunteer shirt, a pair of longs (sand flies abound), and flip flops and socks ? in my case as I want the fresh air minus the bites on my ankles!
7.55 am: Begin the chopping of the fruit if we're on the monkey rotation, or bird seed and less fruit if we´re doing the rest (parrots, macaws, ducks, guinea fowl, rabbits ? geese and turtles!).
8 am: Pass the adult capuchins their food and watch the babies steal it, then give them some more food OR wonder around and put the food on the perches and houses of the parrots etc…
9 – 9.30 am Breakfast is served!
Downtime…
10 am: Cleaning time…this involves cleaning the huts, houses and hutches of the respective animals. It will involve brushes being stolen by the capuchins, sometimes cleaning lots of faeces, replacing the drinking water (sometimes muddied other times full of rocks) and working your way around.
10.30 am: Two people team up to feed Aruma, the Andean Spectacled Bear in a nice enclosure, receiving monkey nuts and fruit and hoping he doesn´t boundback to the feeding area (the nuts are a distraction) while it is washed out and replaced with food!
Downtime…
12 midday: The next feed, much of the same as 8am.
1pm – 3pm: Gravity (the bike riders of death road) begin to arrive, they are served beer ? in the gazebo, given an introduction to La Senda Verde and the volunteers and we run through a few house rules.
They are looked after by the pool ?, shown some of the animals and have questions answered up until 4 pm.
This is still fairly relaxed, and good fun as you get to meet different people every day and see their amazement and wonder at the animals and all!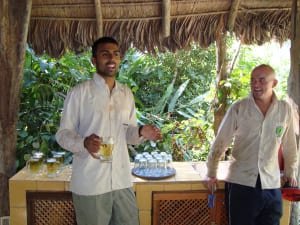 Deepak about to give an amazing speech.
1 pm – 4 pm: The volunteers rotate the lunch that we eat! An all you can eat bolognaise…..oh, I miss it! Stuffed to perfection. My belly that is!
5 pm: The last feed of the day….
7.30 pm: We shower, some play cards ? and chit chat (but if you're anti social as hell like me then you sit and read at the table filled with chatty volunteers, day upon day!). Maybe go to Coroico, internet, watch a film at La Senda Verd.
The place is dead by midnight usually. All asleep, (put the dogs to bed as well). And all is dandy.
Tranquilo.☮️