La Senda Verde pt. 1, Bolivia 2009
Date of entry: July 3, 2009
La Senda Verde: Animal Haven.
What is La Senda Verde?:
Set up in 2001, it was initially used for educational tourism in conjunction with local school whom would come and visit to learn more about nature. In particular a German school and then a Catholic school.
As La Senda Verde was the natural stop off point for bikes along the "world's most dangerous road," tourists seemed to take a liking to seeing the monkeys and macaws.
From here the partnership with Gravity bike company grew.
An English and Irish couple then came to stay and asked to volunteer some months later, and as with many other things here, the volunteer programme has grown organically, with the volunteers feeding and cleaning the animals and allowing tourists to view and interact with them under controlled conditions…
Truly a wonderful sanctuary that now has volunteers staying for up to several months (the minimum requirement being two weeks) and then returning to visit the animals. It is all testament to the success that VIcky and Marcelo have had with this refuge.
Taking in animals that have been ill, mistreated or kept illegally as pets (as well as a combination of all three), you will meet baby capuchins with amazing personalities, that will fiddle through your pant pockets, hanging upside down with solely their tail for leverage.
Out goes your camera 📷 and away, along with any other possessions you might have laying about in your pockets!

When has the phrase "stop monkeying around" EVER been more appropriate?
La Senda Verde is a wonderful place.
I have never spent this much time around animals, let alone monkeys 🐒, and it has been a truly amazing experience. I have eaten copious amounts of spaghetti bolognaise, had a spider monkey pee on me, a coati (member of the racoon family) try and scratch me, as well as Marten, an adult capuchin continually do up and undo my shirt button!
The animals:
The monkeys:
Well, the spider monkeys have some big personalities. Sambo, the polite one that curled up onto me, did try and move off as he peed, but unfortunately got 50% trouser leg and 50% floor.
The Operator…(the book not Samba…) Good times (right before he took a big piss on me…)
These crimson haired moochers love to grab your hand and take you a wander. They love to snuggle, and don't smell fantastic, but you get used to it.
The capuchins:
We have one that was blinded in one eye by her former female owner and is now temperamental and a little vicious around female handlers sometimes.
She has attacked some in the past. Fortunately, I am a good looking man so I have no issues (well apart from being scared witless at times), nada!
Marten, the money that does tricks, loves trying to look down your pants. He undoes shoe laces (but can't re-tie so it makes him quite dangerous), undoes and redoes buttons which is cool. What is not so cool is when he tried to fiddle down with your fly zipper 🤐 and take a hold.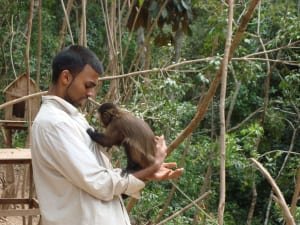 Being friends…..oh joy! Marten really is super cool!
The spectacled bear:
Paddington Bear 🐻 is a lot scarier in real life than in the cartoon classic. Interesting nonetheless. He has great fun being distracted by monkey nuts which he takes the time to break open with claws the size of Indian men´s leg hair.
Parrots and macaws:
Okay, they have like a 200 pound per square inch bite pressure or something. Well, woo hoo! I can't bite through raw carrots…so up yours!
Well, I am from England, so "I give a shit" about birds…but they are cool enough, especially the couple that have a holed up egg and take great pleasure in being very territorial and fluttering their wings as they bound across the floor for your feet.
They do look quite comically menacing when doing this. However, it belies the fact that they could take your toes off when swooping…the little bastards!

The not so cute couple….more like little bastaaards (as I would pronounce it). A bit of fun when giving a tour though!
All in all, since I´m babbling, this is a wonderful place in which I am hugely anti social, reading a book (finished Life of Pi in less than 3 days) at a chatty dinner table on regular
occassion (am now on my second), doing a little to learn Spanish.
Gave a tour of the sanctuary, got a tip, helped with looking after Gravity, and am really genuinely enjoying my time here.
This is the first time in my trip (2 months so far) that I am actually backpacking by myself...
And I´m loving it!
Ciao pals. 👋