La Senda Verde: The Precursor, Bolivia 2009
Date of entry: July 3, 2009
Hello all,
I'm currently at La Senda Verde Animal Sanctuary in Bolivia.
I´m here volunteering for one week starting today!
The base camp for the night, inside the log I luckily got….An ecological resort, so says the puny card….Whoop!
There are 25 monkeys here, and 5 different species of monkey 🐒. There's also a spectacled bear 🐻, parrots 🐦, and other animals.
My lovely lodging for the first two nights! Little did I know how lucky as a naive volunteer I was getting a cabin! This is normally for the guests. I slept in style and made no mess at all…
I survived Death Road La Paz and am here now. I will not be in touch via net much as I gotta go far out to get to the net and it's not easy!
As always, this place is amazing, and I hope you´re REALLY REALLY jealous!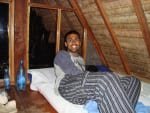 This is me up in the tree house, which is cool at first glance. This smile is choreographed however, as it is little fun having to wake up at 3.30am because it is freezing, you are on the top floor of a noisy noisy tree house in the world´s shittest sleeping bag.
See you guys!
You even get a kiss. 💋
X
(Bastards)