The Beauty of The Bog, El Bano, and Todo, Peru 2009
Date of entry: June 21, 2009
My stomach has unfortunately gone belly up. Ha ha, I guess most would consider this part and parcel of the trip. It´s called the, "I need my mum!" moment.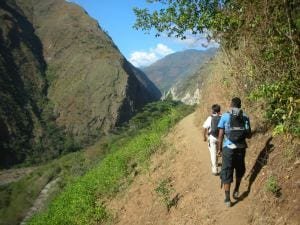 Slogging out the trail in the beating sun. Stomach in turmoil, as well as onlookers at my pants. Being grey. I look more Indian than London here….oh joy! Name your cliche…
And being in the middle of the trek, I had the notorious "man up" ? experience of trudging along a railway track, and alternate brick road, whilst to say euphemistically, I really needed to use the bathroom…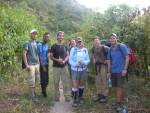 The gang. Tymon and family, along with Thom I and the tallest Yansi…war paint at the ready!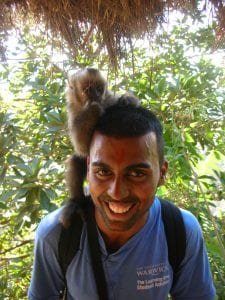 Just monkeying ? around….enroute to Machu Picchu…
Enroute the cycle down. 4/5 hours, around 100 kilometres. Mountain bikes. And I didn't fall over once! Nice…?
Date of entry: June 21, 2009
The time is 3.52pm. I´m in the town of Aguas Calientes at the bottom of Machu Picchu.
The lovelier part of Aguas Calientes, the town at the bottom of Machu Picchu….it's prettier in person, I promise!
Having had a ticket for the train ? to depart this wonderful wonder of the world (and believe you me, you will metaphorically stand star struck and also literally shit your pants because of the death march up…), I misplaced it when we arrived at the station. Train leaves at 2.30pm, its 2.24pm…..
Shiiiiiit.
So having found my ticket ?, I was then found to be under mass suspicion being a British Asian guy "without a ticket" and "alone in Machu Picchu".
Train has left, Thom has kept my bank card ? in his wallet in his pants on the train, and here I am.
No money ?, the train inspectors wanting $20 at first for a new ticket. Minus the money, which they believed when I showed them ALL my stuff, they ran a passport check and found I DO have a ticket.
Arseholes.
So the next thing I discover is that I need 10 soles to pay for the bus enroute from the stop off point for the train (which leaves at 6pm) enroute to Cusco.
With my begging bowl I approached the town centre and managed to find a lady we met along the path up to Winyu Picchu and snag some change from her…
Here I am looking pretty in slippers wondering what to do for money…..yay! I need 10 soles, help!
Oh. It's 4pm now and I better vamos as my passport is with the train officials and I have yet to receive a copy of the new ticket and I was told in no uncertain terms to return by 4.15pm latest.
Oh.
And I even convinced this shop owner to let me use their internet for 50 cents. The only change I had, so that I could inform you of my predicament.
The next adventure (if I actually get on the train, and have no food until 10pm when we return to Cuzco with no money…) is how I will pay for the cab, and tell him where I live since the card for the hostel was lost in the wallet before I arrived.
Oh, bloody, joy… ha ha.
Bad things tend to come in 3s…..?