Afro Bolivian Festival Yungas, Coroico, Bolivia 2009
Date of entry: July 9, 2009
The festival.
I don't actually think it was Afro Bolivian now (they had that the week before), as I saw not a single African soul…..but great concert…these people know how to party! ?
It is odd to be yearning for drunkenness, frivolity and any excuse to behave badly when in England.
But of course, when backpacking abroad the status quo changes to "waiting for that night out", at times anyway!
Having worked solid at the animal sanctuary, I had a wonderfully solitary and convivial week with the animals (and human beings also…), we all were looking forward to our Saturday night out.
And so the night began, having been for a run (I´m training for the marathon that I'm to run in Chicago in October, 4 runs in so far!), and had an early dinner, our journey to Coroico (the nearest town with internet and telephone ? access) began.
On the back of a Hungarian owned jeep, with its driver whom spoke solely Hungarian and maybe several words in Spanish, off we road on the world´s most dangerous road by headlight and by night, several of us piled into the back…
Oh, the joy I felt, as I was set adjacent to the back grate of the jeep, hoping that at no time it would fall open and throw me off into the abyss (the gravel path that would shred my joints being a very visible abyss in this case). Rhiannon was sitting up front with Zachary and the two Hungarians.
For her head there was a nice little rectangular box to peep through at the back, and it looked like a television show. ?
With each snap taken by camera it quickly soon became a case of "change the channel darling…"
Not the greatest shot, granted, but does wonderful capture the TV pose, along with the frivolity of the truck ride to Coroico. This is also my way of apologising for taking such a crap photo…
It was an interesting evening out, which I wiled away by chatting with a travelling Argentinean artisan from Mendoza, fresh out of university, and his Mexican crackhead short little friend (amiable chap!), whom he had picked up only the day before!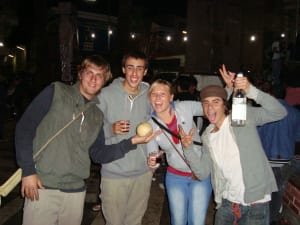 Between the swigs of our rum and coke mixture (which you can buy ready made in stores! Awesome!) and his liver killing foul tasting limonada mixture…it was going to be an evening to remember…
However, our fun, was somewhat marred and added to by the antics of Rhiannon during the course of the evening.
She took to using a telephone to make a midnight call to a friend in Australia, right in the middle of the damn festival.
A whole 20 mins later on a phone line abroad attached to a rickety market stall with two pokey little ladies looking up at her, it soon came to light that she had neither the money nor the will to pay.
Cue a frantic Steve bounding over to me to say, "Quick, Rhiannon needs our help!"
Bless her cotton socks, we bailed her out, and then us three, along with the American Steph decided to bail also, although this was an hour so later in fairness…
What happened in between?
Deepak still out partying in his lovely flip flops, running around not caring. Yes. This is definitely not London. Good thing I got that pedicure. ?
Steve the birdman coming out to party with his head light  (flash light type wanderer thing), and at times forgetting it was on and wandering around with it on his head.
Trying to do kick ups with the Argentinean's magic money ball and realising that it is as bouncy as….dead weight.
And this….
This dude had way too much fun. It's actually a little scary…I mean it was only 1am…and we were in a field. My flash didn't even stir the bugger. This is one shot. Of several..
Date of entry: July 12, 2009
Hmmmm…..nice lol.