MY SOUTH AMERICAN ADVENTURE: BASE JUMPING IN CARACAS
Date of Entry: May 4, 2009
Duuuuudes.
So I just touched down! ?
I pulled up outside the Nuestro Hotel — my refined place of residence for this warm summer´s evening in Caracas.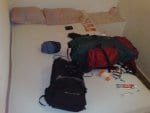 It´s a slum life for me…
By the way, it feels like it's always summer over here. ?
Anyway, as I parked my vehicle, which happened to be a kitted out Fast and Furious style Renault, I thought I saw some people dancing to house music outside the spiffing hotel. ??
I mean, it does say "Welcome Backpackers…We are in Lonely Planet!"
Of course, the house turned out to be his imaginary house of music, and the catalyst for this tribal dance turned out to be crack. Or base. He was ready to base jump into a prostitute methinks. ?
Ahhh…..who happened to take up residence in the room next to mine. Oh beautiful day. Muchos hours as the night passed me by in the $13 a night hostel was spent clutching my nether regions not in the aphrodisiac pose one might hope for, but rather an
"Oh my good God, you´ve been framed Deepak" type contortion………."
So, It`s 10.55am here on the 4th May. ?
I wonder what adventures this great city holds for me today. I sincerely hope it doesn't come in the form of Julio, the homosexual man sitting next to me on the plane gushing over the pictures of his baby… Or the black labrador that rides squashed up in the backseat of his and his partner´s 2006 convertible. Beverly Hills 9021 dog. Oh yes.
Until next time peeps.
Deeps ✌️