MY SOUTH AMERICAN ADVENTURE: BEST NOT BUY THAT… YET WE STILL DO
Date of entry: May 29, 2009
Aww. 😍
There always comes a time and a place, be it on your travels, holiday, way into town, the supermarket or the fridge that you make what is called the impulse buy.
Now, when travelling and circling a market stall like a lion 🦁 caged in with potential predator, circling, pawing, testing, you must at some stage recall. Oh yes.
I´m the effing prey.
Looks can be deceiving… Actually no, no.. He looks shady..
Notice the discernable bone structure.
Possibly a former model lies beneath somewhere. However, it has more likely been carved from incessant crack taking.
Now, look to the slit eyes and expectant stance. It's a darwinian market stall. If he doesn't sell you dodgy goods, he hasn't done his job. 👏
The apparel, or outfit, bought from the stall just to the left of the picture, at a 5th of the price locals pay, and a 10th of the price the idiotic traveller pays…
So one day to another having bought my wonderful Silver Max Clippers, I then attempted to shave.
Observe:
Men and their machines. Deepak and his indian hair…
It worked for a small section of my face…which left me with a wonderful alopecia type bald spot upon my chin..cleverly not in this picture…
That was not before ripping half my face off.
I may as well have bought tweezers.
The clipper looked like a monster.
Motored like a bee. 🐝
The on/off switched worked for one moment, then "ON" was all we had to see….
Having one patch, and much head scratching, off I returned to the marketplace to demand my dinero be returned…
"No tengo, no dinero, quiero otre?"
No I  wouldn't… And being a masculine fine human being on the road, of course, I got another.
It works a bit better than the other one.
If you shave over the same spot in the time it takes the earth to revolve 360 degrees you lose a couple hairs. It's like baldness….
Oh goody! 😭
And what other wonderful trinkets have I bought (along with Tom) that will no doubt prove absolutely bloody useless back in our homelands…and indeed perhaps out here?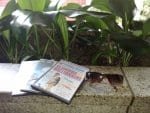 Nice
When going to cold ❄️ countries, you should always buy sunglasses…and when buying copied DVDs, buy it ridiculously cheap at the one market stall that doesn't have a DVD player. Yep.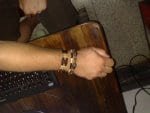 Like things that break? Buy beads!
And let's spare a thought for Tom.. The man loves beads….
Idiot.