MY SOUTH AMERICAN ADVENTURE: LIVING THE LOCAL LIFE IN BOGOTA… NOT
Date of entry: May 27, 2009
So.
A city that is geographically probably larger than London, New York and the like. Spread out over masses of Kilometres are its 8 million inhabitants.
Roaming around the city streets it seemed that around 15% of those people, or 1.2 million were damn police officers ?!
Upon our wanders through the city streets, we made our pit stop for the first evening in the hidden away Platypus hostel.
Inch by inch, my Spanish slowly improves, with an uptake rate of perhaps one word a day, which, cumulatively, is significant.
We got to meet the wonderful Max, an 18 year old North Londoner travelling through this great country on a narc trip basically.
Having met him in the hostel, it soon became clear that charlie, chicks and cerveza will be his highlights of his 3 month stay in Colombia before Spanish at Leeds Uni. I suppose it's much the same for personas the world over, no doubt.
.
We met my now good friend Caterine in Bogota – an English teaching Bogotonian that was sooo nice to us.
I am unbelievably tired so will update appropriately soon, so here are some pics: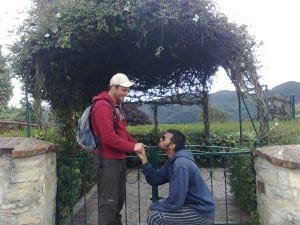 Deepak proposes. Tom is joyful. ?
The lovely Caterine, reflective of the incredible hospitality of the Colombian, actually cut her bank holiday weekend trip short to come and show me around Bogota.
Coming with Tom in tow she got more than she bargained for, however. The case remains open as to whether others feel the same, but Caterine assumed we were a product of the new age. A homosexual couple travelling South America.
Despite our best efforts to prove her wrong (see above), she no longer thought the same after a while. My dashing good looks were simply wasted on Tom, evidently! ?
Paula, 12 yr old daughter, Marcel, sister's boyfriend and grandmummy
Good times with the family.
The daughter had much fun ripping the shit out of our lax Spanish. The boyfriend made Tom and I eat intestines, a local dish. Oh joy!
And grandmummy, she kicks the shit out of most mummies in hospitality stakes…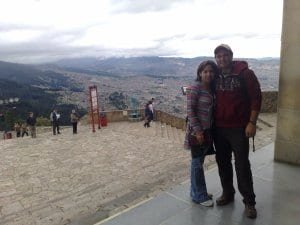 Caterine, and the lovely Tom.