MY SOUTH AMERICAN ADVENTURE: VILLA DE LEYVA AND FRIENDS FROM HOME
Date of entry: May 26, 2009
Saturday 23rd May, 3 weeks into my trip.
5 hours north of Colombia.
In this lovely town that has pretty much remained unchanged since the 16th century, I celebrated the bank holiday weekend with Bogotanas as we (Tom and I) met up with some ex university chums. ?
Namely Tito, a Manizales dwelling, boredom busting Nigerian, working for an NGO.
In addition, one Lolade Okeyan, EY lady with lots of attitude, a taste for travel.In tow with her, the enigmatic lover boy Charles, sombrero wearing Londoner that loves the politics of South America more than any other person I've met!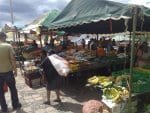 Fruit coming at ya…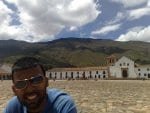 Minus the face, nice town
Wacky White boys in VdL
A Dummies Guide to Golf ?️
A few notes…
1) The economy of the marketplace.
The vendor, hawker, seller, salesman, starts high, and expects to go low. ?
They have a cut off price, probably at least 25% plus their cost base, given the saturation of supply, sales are few and far between, so returns must be high.
What that means for me, is that I have several hawkers cawing at me,
"Welcome amigo, do you want some fruit/how are you,"
and I must make a rational decision based upon the quality of the fruit upon the stall and also the layout of it.
We could go on.
Decision? Find the fruits with the least flies. Buy from there.
2) Golfing. Having walked up towards the bottom of a small mountain/large hill, we arrive at a swanky hotel.
Having barrels of laughs, Tito, Lola, Eni, Charles, Tom and I, the cosmopolitan marauding band  of chicken on stall eaters, are still  recalling our stand off with the local matron that threw our dinero in Eni´s face and gave her a nice push.
Eni is rock solid, however. Disculpa por favor…
It´s actually 2.32am and I need to be up in 4 hours.
So, I´ll keep this short.
It is clear from Eni´s wonderful putting strokes that "donkeys" and "R us" wouldn't go too far amiss.
It was akin to a caveman seeing a lighter for the first time, or a monkey with a hammer ? and a nail.
As you can see from the wonderful amount of balls next to the wonderful stance of Eni, the catchphrase,
"Youuuuu are not alooonnnne,"
was never far off.
And while Neverland maybe a stretch too far, after only 4 holes, it certainly was time to "Beat It", and work out just how I´d return to the hotel the putters and balls I´d managed to blag for free not 45 minutes earlier.
Good times. ?