MY SOUTH AMERICAN ADVENTURE: DIVING UNCOVERED
 Date of entry: May 26, 2009
The roaring of the motor engine as I sped across Caribbean waters, wind blowing through my beard, and snot leaking from my nostrils….magnificent. ?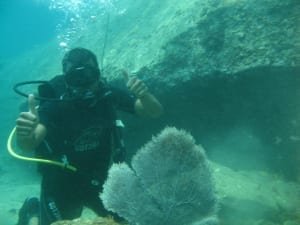 Too cool for Co2. At least the real stuff. Or brains.
A Rescue Diver, having dived around 25 times off the coast of Barrier Reef, Thailand and Fiji Islands. This person is trained to rescue unconscious and panicked divers, give first aid ⚕ and help restore the mortally wounded to stable conditions.
A Rescue diver that couldn´t remember how to put his tank on, and needed to listen in to the instructions that the first timers were being given in order to keep afloat, or indeed stay alive down below in this instance.
I don't think I`m so different from a couple doctors you know……Ahh. Aren't qualifications refreshing?
Cue dive. ?
Enter one Mr. Deepak Shukla, shit for brains extraordinaire. Of course when asked my first question, 'how much air do I have in my tank?' not 30 seconds after submerging, I was then stumped by the signal.
As it turned out, when I reemerged from the water, I didn't even know I was being asked a question.
I thought my divemaster Marty was just telling my to subtly eff off ?
As we discovered. He should have.
So several dozens kicks of the fins later, as we were rushing along the coral beds surface in search of an enticing if somewhat dangerous drift current in Taganga national park, North West Colombia, I realised I was kicking like a chicken.
I was a stick short of a drummer, kicking like a rebel without a cause, a human hunting like cyclops.
Ok.
So, I lost my bloody fin.
You look so dainty Deepak
Of course the pictures you see are from the before.
The after was not captured and gratefully so.
I looked like a royal rescue diving tit from the Big L ?