MY SOUTH AMERICAN ADVENTURE:  A BRIEF PAUSE
Date of entry: May 26, 2009
The average traveller…
Body:
T-shirt ? hangs off the upper torso. Cross between a martian's head and the purple teletubby.
Arms should be poking through.
Note the distinct lack of muscular ? definition, and apparent unconcern for that.
As you travel down the arm one will notice an array of bangles, trinkets and beady things from the farther reaches of the market stall said backpacker frequented.
Looking far out, uber cool, little do they realize that the same trinkets are available at their local convenience store back home.
We have the tanned skin, with the sporadic mosquito bite that frequents pressure points, so elbows knees and ankles are always an itchy spot to seek. These meld into the general look of the wilderness civilized.
Clothing:
Still not that uncommon to see several types of shirts:
The chiang mai vest from Kho San Road in Bangkok is one that finds it Made in China threads the world over.
Usually worn by an STA traveling schmo, and if not, then at least a round-the-world man.
T-shirt of varying kinds in the hot climates, usually reflecting a recent town, city of country of residence. Code for: look where I've traveled to – like bloody everywhere.
Army, camouflage or long shorts with various pockets, numerous bulges, all in various states of disrepair. They don't smell for the average traveler, but as I've sorely discovered, home dwellers have a different opinion. In this instance of course, it may just be me…
Flip flops ?. Nuff said.
Sneakers ?, trainers etc. Are for goons.
The Meal:
Barato, economical, cheap, cheap.
Sometimes a KFC, ? McDonalds, or equivalent.
But of course the classic: Long walks, no protein, bedraggled traveler. Find them in the kitchen whipping up a pasta.
Nice.
(I am on my way )
The changing faces of travelling:
6 months in…aged 19…oh yes

Look at that arm…at 18…just before Oz…
What wonders the gym holds in London…aged 21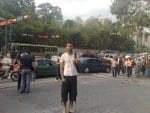 And the now..aged 22, Venezuela..working on that muscle tone…can you dig it?