MY SOUTH AMERICAN ADVENTURE: THE WEIRD AND WONDERFUL
Date of entry: May 21, 2009
Revolution. ✊
Global capitalism.
Caribbean Coastline.
Coffee Kings. ☕
Heavenly women. ?
In search of Pablo Escobar.
Above are just some of the wonderful phrases, several epithets, uttered in the same breath as the exotic and wonderfully rich country that is Colombia.
The size of Spain, France and Portugal combined, this great nation has been overtaken by Iran as the world's kidnapping capital.
Tourism in its small step has seen over a 25% increase in the last few years and Colombia is fast becoming a tourist hotspot for all walks of life.
As I roamed the romantic, balcony filled streets of Cartagena, couples in their later years abounded these pretty streets.
In Taganga, I managed to fit in 2 dives within the borders of Taganga national park- a quiet get away turned hippie haven. Every type of crack, along with crackhead was on offer. ?
Further forward will I move on to the vibrant Bogota, but not before a stop of in the quiet picturesque fishing village of Villa de Leyva.
Wonderful. Just wonderful.
Of course, true to the contradictory nature of any amorphous entity, and so this blog and myself, this was also juxtaposed by the weird.
The effing weird.
And so we have…
Take 1:
One Monkey. ? And his monkey (To the left of the shot. Damn he was quick…)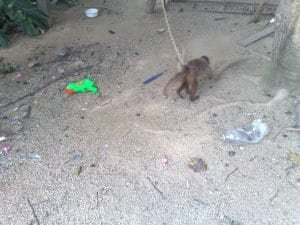 Take 2:
I´m not actually quite sure what to say about this. Apart from……
"Ever seen a chicken ? climb a tree?"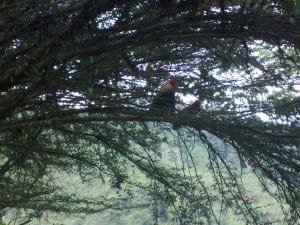 Take 3:
Remember the monkey that was looking after the monkey?
He also likes to parrot about.
With his gun ? he really was a cut above discipline.
Don't try this at home. Or, ever, actually.