MY SOUTH AMERICAN ADVENTURE: A CHAPTER CLOSES…
Date of entry: May 21, 2009
As us seven souls motored back to base camp… 🏕️
Ah Romeo Romeo…….wherefore art thou Romeo…
Oh Ineiss, thou globe trotting swiss german, I need to be stern and firm in my attentions. Having travelled to the nether reaches of the world in Venezuela, though fair complexion could never be paler than a summer´s day in Bombay.
The place you happened to stay and study so studiously, but then I found you atop a jeep, looking at sheep here today on the way……..to the gushing rivers of Los Lanos.
The man Carlos like me was deeply lacking in poetry, but made up for it in sheer veracity, his opaqueness in his lusty attentions.
And I quote, "So Ineiss, you don´t have a lover when you travel,"
"No I don`t"
"What`s wrong with you girl… you don´t have a lover when you travel?"
Getting back to the hostel– so our trip concluded.
3 nights.  🌃
4 days. ⛅
But, really… so much more.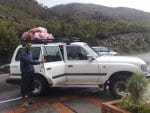 Do yet more adventures await us…..?
I haven´t heard from Carlos since. 🤷‍