MY SOUTH AMERICAN ADVENTURE: ISLA ISABELA
Date of entry: June 6, 2009
Super quick update to say that going to a place such as the Galapagos Islands, the archipelago is truly a luxury for a backpacker.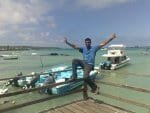 I thought I looked so cool. If only I could see my legs..
Most miss it because it does not fit their budget. At $1100 (approx) from Ecuador last minute during low season it is not cheap going.
From Europe its $2000 US and upwards…
Anyway, having parted with that amount of money the expectation is luxury. Nada mas.
Pero en el boat ?️ on the way over, it was far from luxury as we discovered. Ha ha, and I´m not being sarcastic, believe it or not.
It was 12 people crammed onto a small boat with an overpowered engine, like a Honda Civic trapped in a Ford Fiesta. ?
Our eventual destination for the day, after the flight (1000km away from Quito!) was Isla Isabela.
Now, the boat ride was estimated at 2 hours.
It was three. ?
The currents which converged between these islands looked choppy ?. Our boat was chop suey.
As usual, you had the relaxed animated friend of the boatman, looking fine as the boat crashed seemingly through and not over the waves.
Not the man, but the boat of the moment. Like a rock sailing through water..
There was one American Indian dude with his pretty caucasian American girlfriend.
Having had a plaster attached to his neck, the seasick man´s first port of defence, he then proceeded to explain how effective his new age watch, which sent shock waves through the nervous system was to prevent the spewing of guts, was after which he popped a pill ?
He then puked ? 20 seconds in, and for the rest of the journey.
Whilst I was quietly amused, I was silently intrigued by puke´s ability to change colour through the course of the journey.
This was the most horrible journey ever, by the way. Having been on dozens of boat rides, this one was easily the worst.
Thom looked ashen.
The Indian looked dead. ?
His girlfriend looked like a big teddy bear around him, and I looked uncomfortable.
And the one year old next to me? He was asleep. ?
Bastard.
Oh, yay, for Deepk in the Galapagos.
Yee of dodgy internet connection but supreme wildlife.
Will update you soon, my land dwelling friends.
From your amphibious sea sick fighting chum:
Duh Duh Duh Deep Impakt.
There is a reason this picture is blurred. And it's not my camera. ?