MY SOUTH AMERICAN ADVENTURE: COTOPAXI
Date of entry: June 3, 2009
A 3 hour drive away from Quito lies the amazing national park that is Cotopaxi.
Holy Smokes….it is a volcano 🌋…seriously…
Containing Ecuador´s highest mountain, snow capped of course, it also houses Ecuador´s largest active volcano.
Dizzy heights…just don't look down…
At 5000 metres above sea level, it poses a dizzying array of challenges to both the backpacker and intrepid climber. Gravel, upon mountain, upon cloud, upon glacier.
For $40 US dollars, Thom and I had the pleasure of being escorted to this wonderful natural feature in a jeep that was suffering from a dying battery. 🔋
So, having a 22 year old tour guide sit and hurtle ahead at a top speed of 20km an hour on the motorway did lead to some disharmony amongst the camp.
A Colombian-Taiwan couple, duo of Thom and I, along with the backpacking grad girls from Switzerland, and the congenial Anita, the British Pole.
The Gang…Deepak as appropriately dressed as ever..nice hat..
Highlights:
Having an upward trek up the side of a volcano.
Walking the longest kilometre in my long shorts and old nike hoodie (take a closer look at…well many of my pictures).
The unofficial tramp of our upward tramp, in my Adidas with woe begotten holes near my toes, I was arse upon gravel, and lung upon fumes on regular occasion.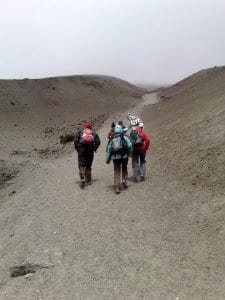 So much for a Yellow brick road…🚫
True to form though, I carried on to try and lead the pack to the amazing glaciers, and even more breathtaking views we were headed towards…Only to be beaten effortlessly to the top, and unfortunately not to the floor.
The wiry Anita. The 30 something British Pole that outstrides my best efforts and has a celebratory fag at the top. She made me feel more man than ever. 💪
Anyhow, The view, being 5000 metres up (the highest I have ever been), amongst the wind washed clouds, snow strewn mountains, with staggering vistas, volcanic gravel that we tread the earth upon was too much for words.
Another time…another place…
This intense hike of only 1 kilometre through feet sinking gravel at 60 degree angles at jaw dropping altitudes was intense on mind and body.
The mountain.
Seeing what maybe Shelley did with Mount Blanc, some kind of ethereal forces playing with us frail human beings amongst the mountains, we shot down to the refugee camp.
Having done lunch, we proceeded to speed down the mountain on bikes 🚵‍. It was damn exhilarating and dangerous. Especially since I have the same ability on a bike at high speeds as a blind man would have at reading The Guardian.
I went off road in pursuit of the speeding Thom and the fleeting Santiago, taking a short cut across volcanic turf.
Having shot past Thom on the trail of Santiago, I quickly realised that Tom isn't slower than me.
It is just that I am an idiot.
Shooting onto the road as it came up like a peadophile to a nursery, I smashed onto it, near missing Santiago who looked on in fright. Then, I performed an incredibly well executed stop by swinging my back wheel into the dirt, turning the bike and using my left foot to end up facing the startled Santiago and the bemused Thom.
Having led the pack, I finished the field last. Behind all the girls.
As cool as it looks. Just a bit more dangerous…if you're like me
Needless to say, yet another amazing day in Ecuador. 😎
Back to base camp