MY SOUTH AMERICAN ADVENTURE: FOOD FOR THOUGHT… LOTS OF IT
Date of entry: June 2, 2009
As it turns out, the tomatoes cost more than a local meal in Ecuador. It's not that much different across South America….

Why shop? ?(especially when you dress like I do….)
Above is one of the few trips to the shopping centres Tom and I have taken..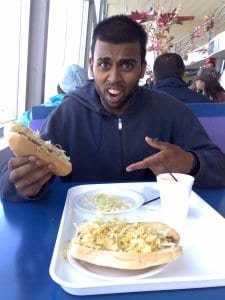 Hotdogs ? and potato chips…lovely..
Good God.
And no God is not good…when I find it I´ll show you…melted cheese and hot chocolate…..delicious…..