MY SOUTH AMERICAN ADVENTURE: DIZZY HEIGHTS AND OTHER SIGHTS IN QUITO
Date of entry: June 2, 2009
Quito, whilst it has a reputation along the backpacker road for being one of the most rugged places to adventure in, Tom and I have had the most joyous time. ?
Amidst our drunken tomfoolery and general idiocy, we climbed a peak and lay a gaze upon a sprawling city. Behold…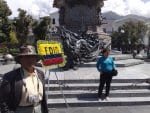 In Old Town. The fat lady that ruined my picture. And the monument..
Lol. You were expecting something a bit more spectacular than this weren't you?
Well, screw you. ?
Lovely to city to wander in……….by day…

A good pose can turn a lame shot. Luckily this is neither. Ha ha.
As usual. Many a backpacker ? will tell you, that pictures never do emotions, time, and experience true justice.
But what most backpackers won't tell you is the fact that they can´t take pictures for shit. The reason for why many a backpacker will try and enliven a mundane shot by posing. As you can see above.